Monthly Archives:
March 2016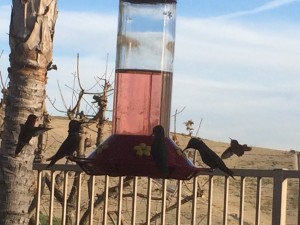 Working on the field at Fix My AC Inc. brings many rewards, including meeting amazing people, seeing beautiful things and discovering new fields of interest by just talking with our customers.
This particular customer is over 90 year-old, his mind sharp as a fiddle and his backyard a joy for the humming birds.
He called Fix My AC Inc to repair his furnace. Most furnaces are accessed from within the homes. But this one required to go through a side door located on the outside of the home. Thanks to this particularity, we were privy to the antics of the humming birds – a delightful experience.
We had to order a part and the customer did not expect us back on the following day due to the weather conditions. But we managed to time our coming back to perform the heating Repair in between two showers. Who says it never rains in California? 🙂 and so we performed the repair and provided heat to our customer for that very weekend. A Happy Ending.
If you don't find the answer please give us a call.
We will happily answer all of your questions! 1-800-673-4922